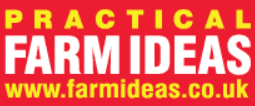 This machine was designed and built by Co Tyrone farmer Hall Donnell to work on the soft low lying land which makes up a large part of their dairy unit. In the past few years he has found increasing demand for his spreading services, and now covers around 3,000 acres with the flexible machine. Despite it's size he can work quickly with the machine - achieving 26 tons spread over 225 acres in just 9 hours work.
The walking beam axle is fitted with shockers to stop it trying to flip over on rough ground, and the heavy duty 25 x 12 tyres carry the weight better than standard ATV wheels. The extended hopper takes a full 600kg bag with room to spare, so he can top up before the hopper is completely empty.
The ubiquitous Honda engine provides the power, and this has the advantage of running the spreader at a constant 540rpm. The lightweight engine is sparing with petrol, and the Foreman itself is quite frugal as well
The home built frame was sent off for galvanising, a precaution which should help longevity.
With a psi of 8 on the spreader and half that on the quad, the whole rig has great floating properties, allowing minimal damage spreading on wet early spring pastures, and also corn.
The nimble rig is lightweight and fast, allowing for considerable performance
This radio has been mounted on various quads for the past 20 years! A good extra when working all day.
The seat-back makes the quad much more comfortable
Note From Practical Farm Ideas

If you don't already subscribe to PFI, then you can
Subscribe here
for £16.50 a year. However, if you have a specific problem and you wonder if this has already been covered in PFI then you can read a list of all the project covered over the past 20 years in our
Index document
.
And finally if you have a project you have done, that you would like featured in PFI, then please email Mike Donovan at
editor@farmideas.co.uk