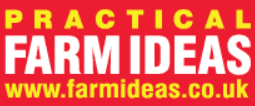 Plastic drain pipe has all the qualities needed for a trough for sheep or calves - flexible, very strong and the big advantage is the cost.
You get this 160mm pipe in 3 metre lengths for less than £10/m, and remember that each metre provides double the troughing. Smaller diameters like 110mm make a trough that's a tad small.
The ends are made using 2in thick planks, the profile cut out and the outside part screwed in place. The cut-out makes a purpose built stop to prevent the feed being pushed out, and it can be screwed in place by fitting it out of line with the stand part.
Trevor McCullough told me that it was made more than 12 years ago, and it's been bashed about by both livestock and tractors, but the plastic just flexes back - something which the galvanised troughs don't do.
The other advantage is weight - note the string for easy moving - which means they can be moved without effort.
Mark the pipe carefully before cutting. A chalk line is one useful idea, or otherwise a good straight edge will do.
A tough, low cost, long lasting feed trough made from standard plastic drain pipe
Note From Practical Farm Ideas
If you don't already subscribe to PFI, then you can
Subscribe here
for £16.50 a year. However, if you have a specific problem and you wonder if this has already been covered in PFI then you can read a list of all the project covered over the past 20 years in our
Index document
.
And finally if you have a project you have done, that you would like featured in PFI, then please email Mike Donovan at
editor@farmideas.co.uk