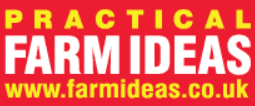 In the 1970s Lely produced a new type of sprayer called the Hydraspin. Controlled Droplet Spraying (CDA) involved an atomising cone which was spun at high speed while the chemical was fed in, and this produced a mist of equal sized droplets. The technique was short-lived in the UK, but continues to be used in Africa where water is sometimes difficult to source, and funds for chemicals are hard to come by.
Lely Hydraspin sprayers were popular in the Scottish-English borders at the time but the machine was withdrawn after a few years. The advantages for the farmer was a significant reduction in chemical needed as the droplet size was very consistent, but this obviously hit chemical sales. The disadvantages were an increased danger of spray drift as the machine had little of no downward pressure from spray bar to the crop. It created a cloud of micro-drops which took time to settle and would of-course be easily blown away.
Lely handbook for their Hydraspin CDA sprayer range

The technique is largely forgotten, though still very much in use in Africa in a hand-held machine made by Micron.
Having the handbook and a spare atomiser, the technique is still of interest to people wanting to make a better sprayer, and I would be interested in hearing from others with a similar interest.
Note From Practical Farm Ideas

If you don't already subscribe to PFI, then you can
Subscribe here
for £16.50 a year. However, if you have a specific problem and you wonder if this has already been covered in PFI then you can read a list of all the project covered over the past 20 years in our
Index document
.
And finally if you have a project you have done, that you would like featured in PFI, then please email Mike Donovan at
editor@farmideas.co.uk