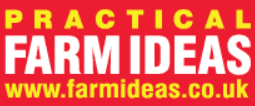 Farm security is of increasing importance. The value of the kit in the yard is greater than ever. The opportunity to sell stolen stuff, with the internet, is far better than it ever was when the local pub was the main outlet, and stuff can be shipped abroad with ease. hence the need for a decent gate.
Opening and closing this 2.5 tonne gate on a large farm in Essex is less hassle than using a traditional five-bar wooden gate with a latch, as you never have to get out of your tractor or truck. Armed with the correct remote control the gate, with a 9m opening, takes less than a minute to fully open, and then starts closing after you in 30 seconds, unless you ask it to do otherwise. Regular visitors and delivery drivers without a remote get out and tap in a number on the keypad - a number that can be changed regularly.
The gate has a total length of 14m and the blind part is mounted on rollers set in a massive frame. This means that the visible part has no runner on the road surface or other part that could become damaged by dirt and traffic - important as the gate needs to be 100% reliable, otherwise it won't get used.
The electronic controls were as expensive as the steel work on this home built addition to farm security. Security in near urban areas is increasingly important in both reducing thefts and controlling any third party risks - such as people trespassing but the farmer being held responsible for their welfare. Gates such as this will become a familiar sight in the more vulnerable parts of the country before long, as their substantial cost is seen as the lesser of two evils. Fortress farming.
The 9m opening provides a wide sweep in for the largest vehicles. Note the gate has no runners.
The gate rides on rollers both top and bottom fitted to a heavy frame.

Note From Practical Farm Ideas

If you don't already subscribe to PFI, then you can
Subscribe here
for £16.50 a year. However, if you have a specific problem and you wonder if this has already been covered in PFI then you can read a list of all the project covered over the past 20 years in our
Index document
.
And finally if you have a project you have done, that you would like featured in PFI, then please email Mike Donovan at
editor@farmideas.co.uk