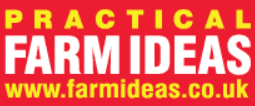 This outdoor penning remains one of the best designed and constructed arrangements, despite the fact that it is now more than 15 years old. The beauty is its flexibility, in that it enables a small team to sort cattle into groups using the various internal gateways, and prepare them to be loaded into separate wagons. It has to be 100% secure, as the location is adjacent to the main A40 in Pembrokeshire.
The two interconnecting pens on the right link to a loading pen on the left hand side which is the width of the wagon, making loading easier than from a pen that funnels. There's a passage in the centre that allows cattle to be separated, sorted and moved from one group to another.
Centre gates swing in both directions so sorting can be done going either up or down. The four high crash barriers are spaced closely, so heads and legs can't go through, yet the gap makes it easy for the stockman to get his toe in and climb over.
Crash barriers are still available, prices vary from £7 to £17, depending on local demand. Using the existing bolt holes means the very heavy galvanising is not broken, and there's sense in using the original bolts as well.
Loading, handling and sorting cattle needs facilities as well as care and patience, and it's easy to see that this arrangement is designed to work properly.
The penning allows for real flexibility of choice, and the earth/stone floor provides better grip than smooth concrete.
Note From Practical Farm Ideas
If you don't already subscribe to PFI, then you can
Subscribe here
for £16.50 a year. However, if you have a specific problem and you wonder if this has already been covered in PFI then you can read a list of all the project covered over the past 20 years in our
Index document
.
And finally if you have a project you have done, that you would like featured in PFI, then please email Mike Donovan at
editor@farmideas.co.uk