Yesterday, the USDA released their first crop progress report for 2022. Crop conditions failed to impress, falling below the lowest trade estimates. Just 30% of US winter wheat was rated in good-excellent condition. Last year, at the same point, 53% of the crop was good-excellent. We have to look back to April 2018 to see similar crop condition ratings, one of the lowest starts to the spring this century.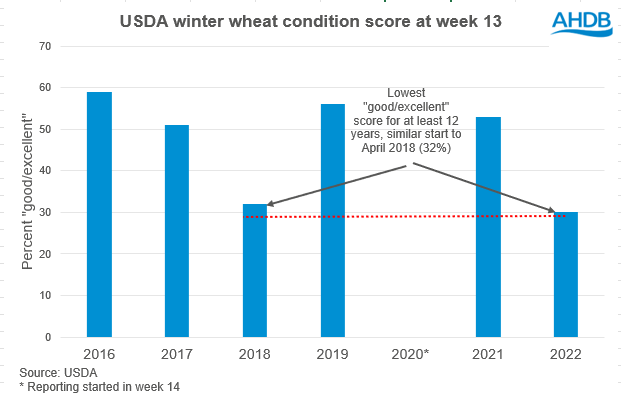 We have talked over the past weeks about drought concerns in much of the Plains, the main region for hard red winter wheat (the largest US class). Seemingly, these conditions are playing out in the condition of the crop as it enters the key growing period.
However, with the crop not due to be harvested until June/July, there is still plenty of growing time left until harvest. Weather conditions will be key in setting market direction. We already know, from the USDA prospective planting report (released 31 March),
that the total US wheat area is up 1% at 19.16Mha.
While more than last year, this still represents the fifth lowest US wheat area since 1919.
What could this mean for the UK​
With concerns around global supply for the new season, any news that could further add to global tightness will lend support to UK new crop prices. Fulfilling the US crop potential will be key to meeting global demand, especially as concerns still flare surrounding potential availability next season from the Black Sea.
Today's Grain Market Daily on the AHDB website -
USDA crop conditions – more woes for wheat?
For information on price direction make sure to
subscribe to Grain Market Daily and Market Report
from our team.