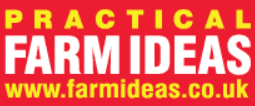 Essex farmer Des Healy has a problem common to many, particularly those on heavier land - poaching in wet weather by livestock damages the sward and damage from tractors working when the ground is soft causes the soil to become compacted.
He has been using a Browns aerator for some years and has noticed a useful reduction in standing water and a consequent improvement in grass growth. The 8ft machine is mounted on the 3-pt and so needs a reasonable tractor in front.
Des decided that after the machine cut slits it could usefully scratch the surface of the sward and get out some of the dead material, dislodge and spread dung pats and at the same time do some levelling.
He added a bar carrying 32 grass tines - an addition not seen on any other aerator yet one which makes a good deal of sense. He fixed the tines to a solid 50 x 10 bar that is mounted on a hinge on either end of the machine. The weight of the steel helps push the tines down, and their close spacing of about 75mm means they don't miss much.
The bar can be lifted and hooked up if the tines are not needed.
Adding tines to a Glenside or any other aerator looks like a useful idea which gives the machine an extra function. These machines will, in years to come, become commonplace on many grassland farms, as their action becomes understood. They are best used when the soil is dry enough not to smear in the slit, when the surface is rough and porous.
Why not scarify after aerating? Spreading dung pats and scratching some dead grass out is well worth the time and expense making the add-on
Note From Practical Farm Ideas

If you don't already subscribe to PFI, then you can
Subscribe here
for £16.50 a year. However, if you have a specific problem and you wonder if this has already been covered in PFI then you can read a list of all the project covered over the past 20 years in our
Index document
.
And finally if you have a project you have done, that you would like featured in PFI, then please email Mike Donovan at
editor@farmideas.co.uk