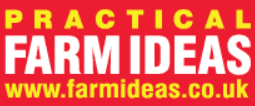 It was 1989 when Mike Donovan, editor of Practical Farm Ideas made a grassland aerator out of a scrap mower, and in 1991 it was featured in Issue 1 -1. 20 years on and aerating is slowly becoming recognised. There's a lot to learn still, in terms of optimal ground conditions, but many are finding it works best when the land is relatively dry, so the tines don't smear the sides of the slits.
Albert O'Neill has been using this Aerway machine for many years, and has added a substantial weight tray to the top of the mounted machine. The concrete weights are moved with pallet forks, but in reality are never moved from the machine. They drive the tines in 6 or more inches, penetrating the compacted surface and allowing nutrients and rainwater to pass through to the roots.
The concrete has steel mesh inside to provide the necessary strength, and the 3/4in re-bar handles are twisted around this for added strength.
The weight frame is a vital part of the spiking machine, which needs tines to penetrate into grassland that is reasonably dry. The tines can be angled on this machine, and when set acutely it works as a cultivator
Note From Practical Farm Ideas

If you don't already subscribe to PFI, then you can
Subscribe here
for £16.50 a year. However, if you have a specific problem and you wonder if this has already been covered in PFI then you can read a list of all the project covered over the past 20 years in our
Index document
.
And finally if you have a project you have done, that you would like featured in PFI, then please email Mike Donovan at
editor@farmideas.co.uk