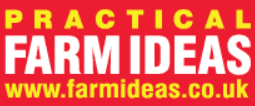 Combination drilling is still largely done with a power harrow and air drill. This combination replaced a Kuhn-Vicon air drill single pass combination, because Joe Lancake,who built it in 1996, wanted something less heavy on the tractor linkage which handled stones better.
His machine is pulled by a drawbar on the tractor 3-pt, and has a set of bogie wheels at the back of the Grays cultivator and the Amazone drill mounted on a rigid frame on the back of the cultivator. When the machine is lifted out of work the cultivator back end and the drill are all raised on the bogie.
Joe did a considerable amount of work to the cultivator, removing the Dutch harrow centre section and replacing it with a third row of spring tines. At the front he added a levelling bar, made from 3in angle and mounted on springs, and there's another levelling bar behind the tines and in front of the home made crumbler. The changes have improved the performance of the Multi-Harrow, which never quite achieved the tilth needed for a single pass. The action of the levellers, tines and crumbler means that this is achieved more often than not on the Cumbria farm.
The drill detaches with three pins if the cultivator is needed on its own.
Removing the whole machine from the tractor 3-pt reduces the size of the tractor in front, and he has used it with an MF399 though normally it gets towed by something bigger. With the weight distributed between the bogie wheels and the tractor lower links, compaction on headlands is reduced.
This tine drill doesn't need a large tractor, as the weight is carried on the back bogie
Note From Practical Farm Ideas

If you don't already subscribe to PFI, then you can
Subscribe here
for £16.50 a year. However, if you have a specific problem and you wonder if this has already been covered in PFI then you can read a list of all the project covered over the past 20 years in our
Index document
.
And finally if you have a project you have done, that you would like featured in PFI, then please email Mike Donovan at
editor@farmideas.co.uk